A T R I L Group of studies of the health of body, soul and spirit

ATRIL'S GENESIS means:
A = Amor (Love)
T = Trabajo (Work)
R = Respeto (Respect)
I = Igualdad (Equality)
L = Libertad (Freedom)


The word´s initials signaled were taken from various books from the teacher Joaquín Trincado.

The ATRIL's symbol is based in the sculpture named by it's author "Trinos" (body, soul and spirit) , which was left as a legacy to this studies group, the historian Sergio A. Troncoso Rubio. The following image is the sculpture named "Trinos": (The four sides of Trinos)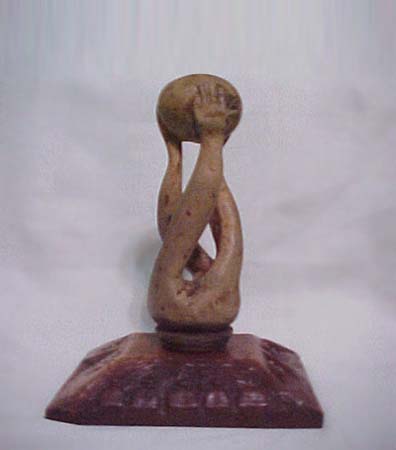 THE PARTICIPANTS RECEIVING THE LIGHT OF KNOWLEDGE.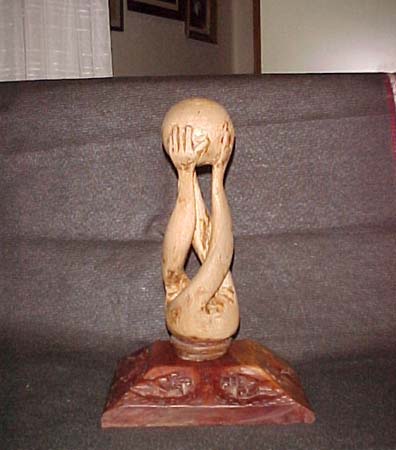 THE HANDS SIGNALING SOMETHING.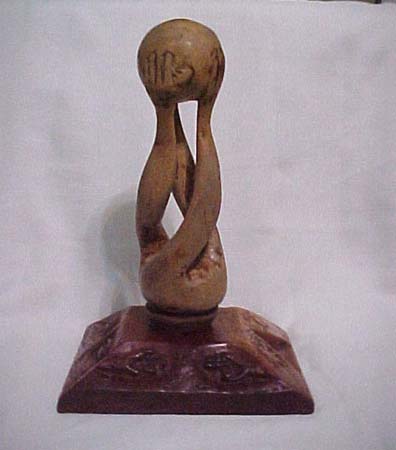 THE EYES LOOKING TO THE INFINITY.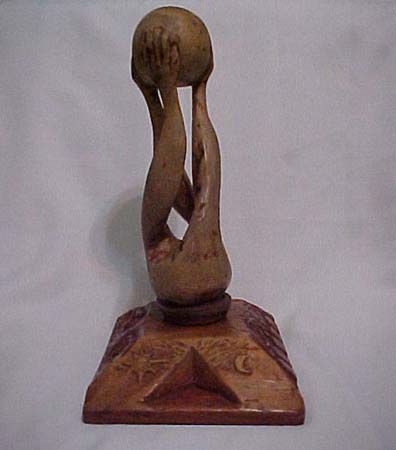 THE SUN AND MOON ILUMINATING THE PYRAMID.

Below the base of this sculpture TRINOS, you can certificate this following dedicatory: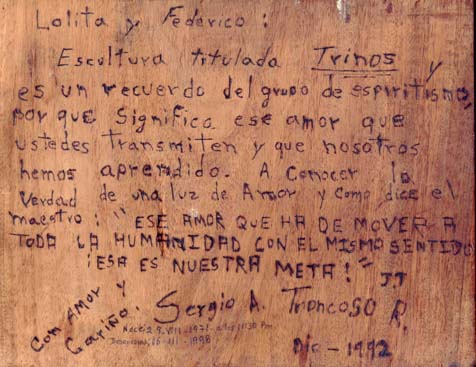 Traduction:
Lolita and Federico

This sculpture named "Trinos" is a remembrance of the spiritism group, because it means that love that you transmit and we have learnt to. Know the truth of a light of love and like the teacher says: "That love that shall move the entire humanity to one way: that's our goal!" J.T. (Joaquín Trincado)

With love and affection Sergio A. Troncoso R.
Deccember 1992.

---
The base of the sculpture is made of hard wood and the figure over this is made from a palm's; the four sides of the base were measured and reasoned before being sculpted, and the three arms that hold the world, represent the "Trinos"; that are all the keepers of this knowledge, occulted for millenniums and intuited by all humanity.
Brother Sergio A. Troncoso Rubio, was born at 11:30am of the day August 29 of 1971 and disembodied at March 16 of 1998; Belonged to this group of studies; was a "Trino" man because he knew that he had a body, soul and spirit; was an historian and studious of spiritism; his legacy to ATRIL school will be known by everybody in the world with the use of internet.
The ATRIL's logo below, is a stylization made by the artist and fancier Héctor Rojas Valdivia.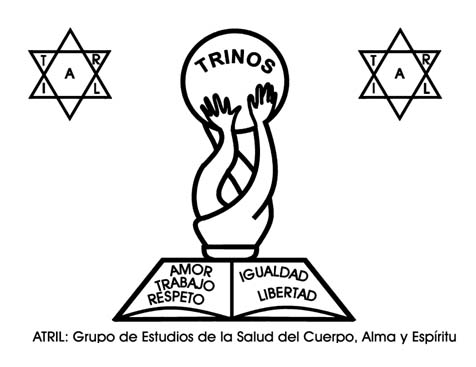 How this knowledge came to us:
The year 1971; with 2 years of marriage, my husband Federico López Moreno, in México city's center, was looking for some books when suddenly, a book attracted him, it was named Conocete a ti Mismo (Know Yourself), from the founder of the Magnetic- Spiritual School of the Universal Commune (EMECU for it's initials in Spanish) Joaquín Trincado, from the editor B. Costa- Amic, the one indicated in the following image: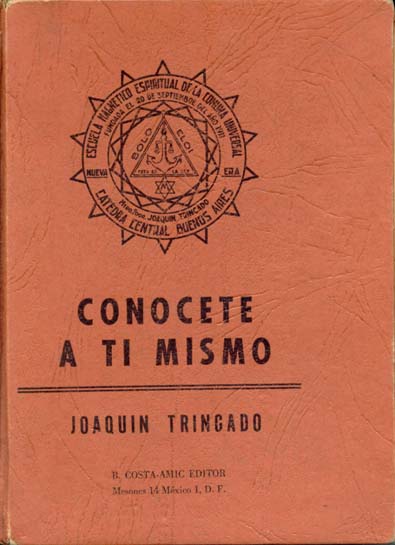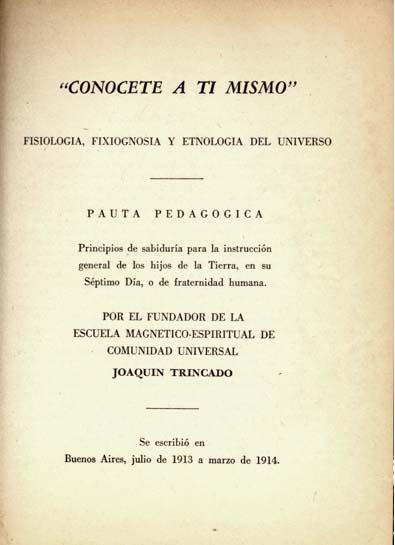 The "coincidences" start to appear.
I was a child of 9 or 10 years old, my mother worked with the Costa- Amic Family; they had three sons, which were my friends: Jordi, Bartumeo and Yuridia; her fathers made a beautiful couple; he, being Spanish and she was Guatemalan. The things that most adorned their home were thousands of brown- pasted books.
Thirteen years later, by the nights before sleeping, when our daughters were asleep, we read daily some of the books pages; that was because our purpose was to know ourselves day by day, because we were really young. For us, the reading of this philosophy was amazing and interesting; getting to the point of changing our customs, quitting off prejudices left by our fathers, because it was really convincing. That change was sort of easy, and we will never regret of it, because thanks of that book we grew morally and spiritually.
The search for the school starts:
After reading the book 1 or 2 times, Federico and I started to look for the school EMECU, we dedicated to ask, and even if they say that searching you'll get to Rome, we got the answer nearly 20 years later. One night I told Federico: "I'm getting tired of searching; it seems that it's not our duty to know that teacher". It was nearly 9pm, from the day May 23 of 1989; I made a solemn petition, something like this: "Joaquín Trincado I've searched too much for you and I shall tell you, you got me captivated, we got between 17- 19 years of knowing your book and we can't get to even one of your schools or books, but if the spiritism really exists, I ask you for a signal, as fast as possible because I'm tired of searching and I want to believe in you".
The surprise:
I had a patient named Antonio Sosa Calderón; he arrived to his medical appointment at 9am, I attended him and when he was going to leave, he gave me a present and told me to not open it until he went away. Just when he left, after thanking him for the gift, I opened it fastly, and my surprise was big after I saw the name of the book "Cinco Amores (Five Loves)" de Joaquín Trincado from editorial Costa- Amic Editores. S.A. y Asociación Juana de Asbaje A.C. the book has a dedicatory tht I write next to this so you judge it and know the handwriting of this wonderful man; specially sent by the light spirits and my dear loved teacher Joaquin Trincado: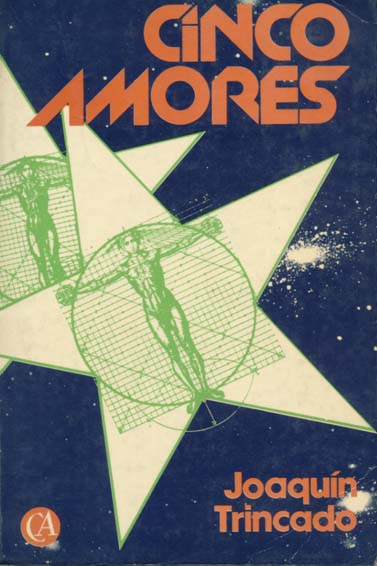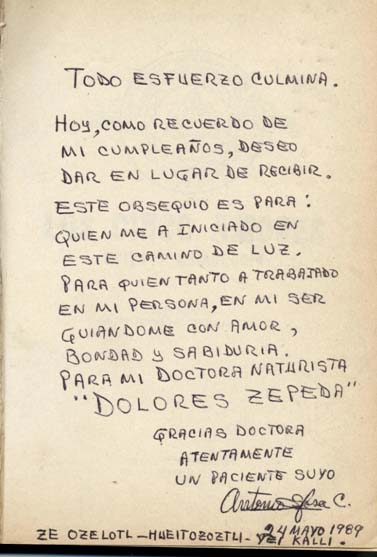 Which says:

Every effort ends.

Today, as a remembrance of my birthday, I wish to give instead of getting.

This present is for:

Who has initiated me in this light path. For who has worked so much in my person, my being, guiding me with love, goodness and knowledge.

For my naturist doctor "Dolores Zepeda"

Thanks doctor

Attentively

Your patient

ZE OZELOTL- HUEITOZOTZLI- YEI KALLI May 24, 1989
---
As you see, the calling for teacher Joaquín Trincado, was so fast his answer that just 12 hours were needed, because I asked him to at 9pm the day may 23of 1989, and the next day at 9am I received the book.
For me it was enough for me to not doubt again, and force me more in the search of his books; not just looking for what I wanted, much say "ask for it and you will get it" referring to Jesus of Nazareth, and I truly tell you, who doesn't get, is because he doesn't ask for it with optimism and confidence; at the beginning, I just asked for it to teacher Joaquín Trincado; later I learnt that anyone could ask to any spirit that I needed, because he's the one that will come with the answer that I'm looking for, just when it's based in law and justice. I always ask to the light spirits.

The same may 24 late at night I made another petition that was another proof to me. I told the teacher "now teacher, after 20 years looking for the school, would you be so gentle to proportionate me the address, whenever you can, but please, teacher, don't delay.

My husband was Auditor of the Treasury, met a man who said he walked in the search for EMECU, and the surprise he received was huge, because the counter Knew Héctor Montoya Castillo, the man was none other than the Warden of EMECU, I think of all the Mexican Republic. It was early June when we met, we were excited, and was a pleasure to be and to a brother EMECU school, besides the important post he occupied for many years of trust that we had.

Your welcome to us was very friendly and nice, when I told him of the request and the book THE FIVE LOVES, that gave me Antonio, he also was surprised, left the job he was doing, and someone gave it to continue, while the attending us, led us to a small warehouse, where he had thousands of books, and started taking some, and suddenly I said, ten is for you, and FEDE asked, would you like to read?, answered at the same time if iiii and he laughed heartily, then told us EMECU school things, and many anecdotes. Everything was so beautiful, in every word he gave us much knowledge. Before we left I said to you Lolita was expecting, coming in two weeks to show you other books, and jokingly told us do you want? If we answer, can they? yeah right. A fortnight gave us four more books, but such was his enthusiasm that finally gave me all the works of Joaquin had Trincado, 14 books are presented with much love and for the good of EMECU.

Montoyita confess that as I called him, always asked us to school will incorporate EMECU but we have not done so far. In another report will explain the cause. We currently have a study group called ATRIL, but as another teacher said, "Devotees come and will go, but my father I will always be yours" referring to a beginning knowledge and leave it at half or just enter it van, arguing that it is not yet time. I have found that not everyone gets to stay but if they are the seed of knowledge of Spiritism Light and Truth, and I have to admit that my students more regular and more dedicated and punctual is Antonio Sosa who would have taken a genuine love of brother. By authorization of Hector Montoya Castillo, saw the genesis of our school.

This story continues in the section "SPIRITUALCOMMUNICATIONS, IV.- GENESIS DEVELOPMENT ATRIL GROUP DESK OF POWERS and V.-SOME IN COMMUNICATIONS ATRIL GROUP DEVELOPMENT POWERS, WHICH ARE BEING DISCLOSED FOR STUDY, EXPLANATION, INVESTIGATION AND VERIFICATION".

Thanks for wanting to know more, your friend and sister

Dolores Cepeda Hernández (Lolita).




ATRIL II
GENESIS
I STARTED ATRIL IN 1992 AS A SPIRITISM STUDENT; WITHIN THE PASS OF TIME I STARTED LEARNING THIS PHILOSOFY OF VEDIC ORIGIN THROUGH MASTER JOAQUÍN TRINCADO'S WORKS IN THE MAGNETIC-SPIRITUAL SCHOOL OF THE UNIVERSAL COMMUNE AND THE TEACHINGS OF THE TEACHER DOLORES CEPEDA HERNANDEZ, DIRECTRESS OF ATRIL.

I THINK THAT ARRIVING TO THE SPIRITISM SCHOOL WAS A UNIQUE MOMENT BECAUSE OF MANY REASONS FROM WHOSE I MENTION SOME:

-I STARTED BY STUDYING THE REAL ORIGIN OF HUMANITY AND UNIVERSE, ABOUT THE MEANING OF GOD AND RELIGION AND TO RECOGNIZE THE CREATOR, ELOI.

BY SHAKING WRONG IDEAS AND DOGMAS, I STARTED TO LET ME START IN THE KNOWLEDGE OF MYSELF, STARTING FROM THE UNIVERSAL LAWS THAT EXPLAIN THE CAUSE AND EFFECT LAW THAT LET'S US UNDERSTAND: "THAT I AM MY OWN CAUSE" TO ASUME THAT EACH ONE IS RESPONSIBLE OF THEIR ACTS, THAT EACH ONE IS RESPONSIBLE OF THE THINGS THEY HAVE AND DON'T, OF WHAT THEY'VE DONE AND HAVEN'T DONE, THAT BLAMING THE OTHERS FOR WHAT HAPPENS TO US JUST ENTERTAINS, DELAYS OUR PROGRESS AND AFFECT THE OTHERS, BUT STARTING BY OURSELVES. ALSO I KNOW THAT BY RECOGNIZING THIS MY HEALTH AND INTERPERSONAL RELATIONS IMPROOVED, AND THERE'S A LOT THAT I LACK TO DO.

THAT'S HOW I STARTED LEARNING AND IN THE ROAD I'VE FELL AND GOT UP AND HAVE AQUIRED LIFE EXPERIENCES THAT MADE ME UNDERSTAND THEPRINCIPLE OF: LIFE'S ETERNAL AND CONTINUED AND FATHER ELOI IS THE CREATOR OF LIFE, UNIVERSE AND SPIRITS, AND BECAUSE OF THAT WE, HUMAN BEINGS ARE SPIRIT, INWHICH RADICATES REASONING AND INTELLIGENCE AND SPIRITUAL HABILITIES; NOW I KNOW THAT IN ADDITION TO THE SPIRIT WE HAVE SOUL AND THIS IS THE ARCHIVE ANDNOTEBOOK OF THE SPIRIT BECAUSE THERE OUR PAST LIFES AND WHAT WE GOT OF OUR ACTUAL EXISTENCE ARE RECORDED, AND THAT WE GOT A BODY THAT, WITHOUT THIS, THE SPIRIT WOULDN'T BE ABLE TO EXECUTE HIS ACTS, WHICH INDICATES THAT THE RESPONSIBLE OF ALL THESE IS ALWAYS THE SPIRIT.

THEREFORE I LEARNT THAT WHAT I'VE RECEIVED FROM THIS SCHOOL IS TO PUT ON PRACTICE TO UNDERSTAND IT IN REAL, BY WHICH I LOOKED TOAPPLY THIS KNOWLEDGE IN MY PROFESSIONAL SCOPE RETAKING PRINCIPALLY THE BOOK UNIVERSAL LOVE CODE I AND II, TAKING IT'S PHILOSOFIC BASIS FOR THE INTEGRAL FORMATION OF CHILDREN AND YOUTH, CAPTURING IT IN COMPLEMENTARY PROGRAMS FOR THE SPECIAL EDUCATION SCHOOL FORM WHERE I ACTUALLY WORK WITH PARTICIPATION OF OTHER PEOPLE, THEREFORE, A CAPACITATION AND FORMATION FOR THE PRODUCTIVE WORK SYSTEM GOT STRUCTURED, WHICH HAS BENEFITED THE SCHOOL POPULATION WITH DISABILITY OR SPECIAL EDUCATIVE NEEDS IN LOCAL OR REGIONAL LEVEL.

-ANYWAY, I KNOW I WOULDN'T END MENTIONING THE BENEFITS AND POSITIVE CHANGES THAT THIS KNOWLEDGE HAS BROUGHT.

THEREFORE IN 2002 I STARTED THINKING IN THE POSSIBILITY OF SHARING WITH OTHER PEOPLE THE SPIRITISM KNOWLEDGE THOUGH I KNEW I HAD TO LEARN A LOT MORE, THIS WOULD BE A FORM TO THANK AND SHARE THIS VALUABLE KNOWLEDGE.

SO WITH THE ATRIL ONE'S DIRECTRESS AUTHORIZATION, THE DOCTOR AND TEACHER DOLORES CEPEDA HERNANDEZ, IN SEPTEMBER 26 OF 2003, THE GROUPOF SPIRITISM STUDY FOR STARTERS DENOMINATED ATRIL II, WAS OPENED IN THE MUNICIPALITY OF TULTITLAN, ESTADO DE MÉXICO.

-IN MY FUNCTION AS AN APPRENTICE AND AT THE SAME TIME INSTRUCTOR OF THE GROUP, I REALIZED THAT IT WASN'T ENOUGH TO TRANSMIT INFORMATION AND KNOWLEDGE, I STARTED TO TAKE CONCIENCE ABOUT THE IMPORTANCE OF REALLY UNDERSTANDING WHAT IS BEING STUDIED.

IN THIS PARALEL LEARNING PROCESS WITH THE GROUP THERE WERE GREAT SATISFACTIONS ESPECIALLY BECAUSE WE HAVE THE INTEREST TO KEEP LEARNING.

NOW I RECOGNIZE THAT THERE WERE LOTS OF THINGS I DIDN'T ALSO UNDERSTAND, AT THE BEGINNING I ASKED MY DOUBTS TO TEACHER LOLITA, I THINK THAT LATER I RELIED AND DIDN'T GIVE MYSELF THE TIME TO DO IT OR BECAUSE I DIDN'T WANT TO RECOGNIZE I DIDN'T KNEW. I ALSO GAVE OTHER HUMAN DEVELOPMENT THEMES AND, EVEN THEY WERE ALSO INTERESTING, THE PRINCIPAL OBJECTIVE WAS LOST FRECUENTLY.

-I KNOW THAT THIS MADE US LOOSE 3 YEARS OR MAYBE MORE IN JUST ONE BOOK "BUSCANDO A DIOS". FORTUNATELY IN ATRIL I, AND WITH BASIS IN JOAQUIN TRINCADO'S WORKS, TRUTHS ARE TOLD WITH THE FINALITY OF LOOKING FOR THE ERROR, BECAUSE, TO GREATER LOVE, GREATER RIGOR. THIS HAS PERMITTED ME TO CORRECT THE FORM I DIRECTED THE GROUP AND RETAKE AGAIN THE ESSENTIAL PROPOSAL.

NOW WE WATCH DIVERSE THEMES IN THE GROUP REALLY INTERESTING BUT WE DON'T NEGLECT THE ESSENTIAL KNOWLEDGE OF SPIRITISM; AND WE RETOOK ONE OF THE SCHOOL'S FUNDAMENTS: THAT THE SPIRITISM IS THE MOTHER OF ALL CIENCES, BECAUSE IT IS IN ALL, WITH ALL AND FOR ALL.

IT IS WORTH MENTIONING THAT FROM THE PEOPLE THAT STARTED IN THIS GROUP OF STUDY, SOME DIDN'T CONTINUE; MAYBE BECAUSE OF PREDJUDICE, OR ANOTHER REASONS, MAYBE IT WASN'T THEIR TIME, BUT THEY STILL CARRY WITH THEM SOME BASIS OF THIS KNOWLEDGE FOR THEIR PROGRESS, ALSO THEY HAVE SOME WORKS OF THE MAGNETIG-SPIRITUAL SCHOOL OF THE UNIVERSAL COMMUNE AND THEY KNOW WHERE TO GO WHEN THEY DESIRE TO CONTINUE. SOME PARTNERS ASSIST BUT WITH MINOR FREQUENCE, EVEN THOUGH WE OBSERVE HOW THEY APPLY THIS IN THEIR FAMILIAR, LABORAL AND SOCIAL ENVIRONMENT. IT'SALSO GRATEFUL TO COMMENT THAT THE MOST CONSTANT PEOPLE IN THE GROUP HAVE BEEN MA. CONCEPCIÓN OLIVARES SOLANO, ANGELICA BARROSO RAMOS AND CRISTINA CARMEN MORALES GUZMAN (THE TWO FIRST REFER THAT THIS KNOWLEDGE HAS PERMITTED THEM TO IMPROOVE THEMSELVES, THEIR FAMILY AND IN WORK); THEY ALSO COMMENT THAT THEY HAVE LACKED TIME TO STUDY FOR WHICH THEY PROFUNDIZE IN IT; CRISTINA CARMEN MORALES GUZMAN REFERS THAT IN ATRIL II SHE WAS STARTED IN THE KNOWLEDGE OF SPIRITISM AND TO LEARN SOME OTHER ESSENTIAL ASPECTS THAT HAVE PERMITTED HER TO ENTER IN THE THEMES OF DIVERSE WORKS OF THIS SCHOOL AND TO STUDY AND PROFUNDIZE THEM IS RESPONSIBILITY OF EACH ONE, BASED ON PERSONAL INTEREST.

ALSO I WANT TO COMMENT THAT SHE HAS OUTSTANDED ALSO BECAUSE OF HER PERSEVERANCE AND BECAUSE OF SHOWING INTEREST OF PROFUNDIZING INTO THIS KNOWLEDGE BY ASSISTING TO ATRIL I, WHERE THEY STUDY THEMES OF GREATER LEVEL OF KNOWLEDGE; FACT THAT MADE HER GROW IN THE KNOWLEDGE OF HERSELF AND HER SPIRITUAL DEVELOPMENT.

THAT IS WHY THE EFFORT AND DEDICATION MERIT NOW THE DIRECTION AND CONDUCT OF ATRIL II IS IN CHARGE OF THE TEACHER CRISTINA CARMEN MORALES GUZMAN, WHAT HAS BROUGHT GREAT BENEFITS TO THE GROUP BECAUSE SHE STARTED WITH THE HABILITIES DEVELOPMENT, ASPECT THAT FROM YEAR 2003 HAS NOT BEEN DONE. NOW AS A GROUP WE FEEL MORE MOTIVATED TO LEARN BECAUSE THERE'S NOT JUST THEORY AND WORDS, BUT PRACTICE THAT IN BASE ON THE GRADE OF PROGRESS PERSONAL STUDY AND GROUPAL WORK WE KEEP ADVANCING IN KNOWLEDGE AND DEVELOPMENT OF FACULTIES, FOR OUR OWN BENEFIT AND THE COMMUNE'S.

TO WRITE THIS GENESIS OF HOW ATRIL II WAS FORMED, AS THE WEAKNESSES AND STRENGTHS OF THIS LIVED PROCESS; HAS THE FINALITY OF DIFFUNDING AND SHARING THIS KNOWLEDGE AND EXPERIENCES WITH ALL WHOM ARE IN SEARCH OF TRUTH ABOUT THEMSELVES, HISTORY OF TERRESTIAL HUMANITY, UNIVERSE AND SPIRITUAL KNOWLEDGE.

OUR DEAR MASTER JOAQUÍN TRINCADO IN WORKS OF THIS SCHOOL REITERATES: "THERE'S ALWAYS A BEYOND", THEREFORE IN ATRIL WE KEEP WITH THE FINALITY OF PREPARING OURSELVES TO BE BETTER PEOPLE, TO KEEP GROWING IN SOCIAL AND PERSONAL CONCIOUSNESS AND AS DISIMBODIED OR INCARNATED WE CONDUCT OURSELVES IN BASE OF TRUTH AND RECEIVE IN THE BEST WAY THE GREAT MATERIAL, MENTAL AND SPIRITUAL CHANGE THAT AS HUMANITY WE LONG FOR BECAUSE IT WILL TAKE US TO A GREATER GRADE OF PROGRESS AND SOCIAL EQUALITY.



ATTENTIVELY

ATRIL II



WROTE: INICIAL INSTRUCTOR ALICIA BARAJAS MENDEZ

AUGUST 1 OF 2011